Hot Topics
2022 Q4 tax calendar: Key deadlines for businesses and other employers
Here are some of the key tax-related deadlines affecting businesses and other employers during the fourth quarter of 2022. Keep in mind that this list isn't all-inclusive, so there may be additional deadlines that apply to you. Contact us to ensure you're meeting all applicable deadlines and to learn more about the filing requirements.
Note: Certain tax-filing and tax-payment deadlines may be postponed for taxpayers who reside in or have businesses in federally declared disaster areas.
Report income tax withholding and FICA taxes for third quarter 2022 (Form 941) and pay any tax due. (See exception below under "November 10.")
Thursday, November 10
Report income tax withholding and FICA taxes for third quarter 2022 (Form 941), if you deposited on time (and in full) all of the associated taxes due.
Thursday, December 15
If a calendar-year C corporation, pay the fourth installment of 2022 estimated income taxes.
Contact us if you'd like more information about the filing requirements and to ensure you're meeting all applicable deadlines.
© 2022

Partners may have to report more income on tax returns than they receive in cash
Are you a partner in a business? You may have come across a situation that's puzzling. In a given year, you may be taxed on more partnership income than was distributed to you from the partnership in which you're a partner.
Why does this happen? It's due to the way partnerships and partners are taxed. Unlike C corporations, partnerships aren't subject to income tax. Instead, each partner is taxed on the partnership's earnings — whether or not they're distributed. Similarly, if a partnership has a loss, the loss is passed through to the partners. (However, various rules may prevent a partner from currently using his or her share of a partnership's loss to offset other income.)
Pass through your share
While a partnership isn't subject to income tax, it's treated as a separate entity for purposes of determining its income, gains, losses, deductions and credits. This makes it possible to pass through to partners their share of these items.
An information return must be filed by a partnership. On Schedule K of Form 1065, the partnership separately identifies income, deductions, credits and other items. This is so that each partner can properly treat items that are subject to limits or other rules that could affect their correct treatment at the partner's level. Examples of such items include capital gains and losses, interest expense on investment debts and charitable contributions. Each partner gets a Schedule K-1 showing his or her share of partnership items.
Basis and distribution rules ensure that partners aren't taxed twice. A partner's initial basis in his or her partnership interest (the determination of which varies depending on how the interest was acquired) is increased by his or her share of partnership taxable income. When that income is paid out to partners in cash, they aren't taxed on the cash if they have sufficient basis. Instead, partners just reduce their basis by the amount of the distribution. If a cash distribution exceeds a partner's basis, then the excess is taxed to the partner as a gain, which often is a capital gain.
Illustrative example
Two people each contribute $10,000 to form a partnership. The partnership has $80,000 of taxable income in the first year, during which it makes no cash distributions to the two partners. Each of them reports $40,000 of taxable income from the partnership as shown on their K-1s. Each has a starting basis of $10,000, which is increased by $40,000 to $50,000. In the second year, the partnership breaks even (has zero taxable income) and distributes $40,000 to each of the two partners. The cash distributed to them is received tax-free. Each of them, however, must reduce the basis in his or her partnership interest from $50,000 to $10,000.
More rules and limits
The example and details above are an overview and, therefore, don't cover all the rules. For example, many other events require basis adjustments and there are a host of special rules covering noncash distributions, distributions of securities, liquidating distributions and other matters. Contact us if you'd like to discuss how a partner is taxed.
© 2022
---

Caring for an elderly relative? You may be eligible for tax breaks
Taking care of an elderly parent or grandparent may provide more than just personal satisfaction. You could also be eligible for tax breaks. Here's a rundown of some of them.
1. Medical expenses. If the individual qualifies as your "medical dependent," and you itemize deductions on your tax return, you can include any medical expenses you incur for the individual along with your own when determining your medical deduction. The test for determining whether an individual qualifies as your "medical dependent" is less stringent than that used to determine whether an individual is your "dependent," which is discussed below. In general, an individual qualifies as a medical dependent if you provide over 50% of his or her support, including medical costs.
However, bear in mind that medical expenses are deductible only to the extent they exceed 7.5% of your adjusted gross income (AGI).
The costs of qualified long-term care services required by a chronically ill individual and eligible long-term care insurance premiums are included in the definition of deductible medical expenses. There's an annual cap on the amount of premiums that can be deducted. The cap is based on age, going as high as $5,640 for 2022 for an individual over 70.
2. Filing status. If you aren't married, you may qualify for "head of household" status by virtue of the individual you're caring for. You can claim this status if:
The person you're caring for lives in your household,
You cover more than half the household costs,
The person qualifies as your "dependent," and
The person is a relative.
If the person you're caring for is your parent, the person doesn't need to live with you, so long as you provide more than half of the person's household costs and the person qualifies as your dependent. A head of household has a higher standard deduction and lower tax rates than a single filer.
3. Tests for determining whether your loved one is a "dependent." Dependency exemptions are suspended (or disallowed) for 2018–2025. Even though the dependency exemption is currently suspended, the dependency tests still apply when it comes to determining whether a taxpayer is entitled to various other tax benefits, such as head-of-household filing status.
For an individual to qualify as your "dependent," the following must be true for the tax year at issue:
You must provide more than 50% of the individual's support costs,
The individual must either live with you or be related,
The individual must not have gross income in excess of an inflation-adjusted exemption amount,
The individual can't file a joint return for the year, and
The individual must be a U.S. citizen or a resident of the U.S., Canada or Mexico.
4. Dependent care credit. If the cared-for individual qualifies as your dependent, lives with you, and physically or mentally can't take care of him- or herself, you may qualify for the dependent care credit for costs you incur for the individual's care to enable you and your spouse to go to work.
Contact us if you'd like to further discuss the tax aspects of financially supporting and caring for an elderly relative.
© 2022
---

The tax mechanics involved in the sale of trade or business property
There are many rules that can potentially apply to the sale of business property. Thus, to simplify discussion, let's assume that the property you want to sell is land or depreciable property used in your business, and has been held by you for more than a year. (There are different rules for property held primarily for sale to customers in the ordinary course of business; intellectual property; low-income housing; property that involves farming or livestock; and other types of property.)
General rules
Under the Internal Revenue Code, your gains and losses from sales of business property are netted against each other. The net gain or loss qualifies for tax treatment as follows:
1) If the netting of gains and losses results in a net gain, then long-term capital gain treatment results, subject to "recapture" rules discussed below. Long-term capital gain treatment is generally more favorable than ordinary income treatment.
2) If the netting of gains and losses results in a net loss, that loss is fully deductible against ordinary income (in other words, none of the rules that limit the deductibility of capital losses apply).
Recapture rules
The availability of long-term capital gain treatment for business property net gain is limited by "recapture" rules — that is, rules under which amounts are treated as ordinary income rather than capital gain because of previous ordinary loss or deduction treatment for these amounts.
There's a special recapture rule that applies only to business property. Under this rule, to the extent you've had a business property net loss within the previous five years, any business property net gain is treated as ordinary income instead of as long-term capital gain.
Section 1245 Property
"Section 1245 Property" consists of all depreciable personal property, whether tangible or intangible, and certain depreciable real property (usually, real property that performs specific functions). If you sell Section 1245 Property, you must recapture your gain as ordinary income to the extent of your earlier depreciation deductions on the asset.
Section 1250 Property
"Section 1250 Property" consists, generally, of buildings and their structural components. If you sell Section 1250 Property that was placed in service after 1986, none of the long-term capital gain attributable to depreciation deductions will be subject to depreciation recapture. However, for most noncorporate taxpayers, the gain attributable to depreciation deductions, to the extent it doesn't exceed business property net gain, will (as reduced by the business property recapture rule above) be taxed at a rate of no more than 28.8% (25% as adjusted for the 3.8% net investment income tax) rather than the maximum 23.8% rate (20% as adjusted for the 3.8% net investment income tax) that generally applies to long-term capital gains of noncorporate taxpayers.
Other rules may apply to Section 1250 Property, depending on when it was placed in service.
As you can see, even with the simplifying assumptions in this article, the tax treatment of the sale of business assets can be complex. Contact us if you'd like to determine the tax consequences of specific transactions or if you have any additional questions.
© 2022
---

Thinking about converting your home into a rental property?
In some cases, homeowners decide to move to new residences, but keep their present homes and rent them out. If you're thinking of doing this, you're probably aware of the financial risks and rewards. However, you also should know that renting out your home carries potential tax benefits and pitfalls.
You're generally treated as a regular real estate landlord once you begin renting your home. That means you must report rental income on your tax return, but also are entitled to offsetting landlord deductions for the money you spend on utilities, operating expenses, incidental repairs and maintenance (for example, fixing a leak in the roof). Additionally, you can claim depreciation deductions for the home. You can fully offset rental income with otherwise allowable landlord deductions.
Passive activity rules
However, under the passive activity loss (PAL) rules, you may not be able to currently claim the rent-related deductions that exceed your rental income unless an exception applies. Under the most widely applicable exception, the PAL rules won't affect your converted property for a tax year in which your adjusted gross income doesn't exceed $100,000, you actively participate in running the home-rental business, and your losses from all rental real estate activities in which you actively participate don't exceed $25,000.
You should also be aware that potential tax pitfalls may arise from renting your residence. Unless your rentals are strictly temporary and are made necessary by adverse market conditions, you could forfeit an important tax break for home sellers if you finally sell the home at a profit. In general, you can escape tax on up to $250,000 ($500,000 for married couples filing jointly) of gain on the sale of your principal home. However, this tax-free treatment is conditioned on your having used the residence as your principal residence for at least two of the five years preceding the sale. So renting your home out for an extended time could jeopardize a big tax break.
Even if you don't rent out your home so long as to jeopardize your principal residence exclusion, the tax break you would have gotten on the sale (the $250,000/$500,000 exclusion) won't apply to the extent of any depreciation allowable with respect to the rental or business use of the home for periods after May 6, 1997, or to any gain allocable to a period of nonqualified use (any period during which the property isn't used as the principal residence of the taxpayer or the taxpayer's spouse or former spouse) after December 31, 2008. A maximum tax rate of 25% will apply to this gain (attributable to depreciation deductions).
Selling at a loss
Some homeowners who bought at the height of a market may ultimately sell at a loss someday. In such situations, the loss is available for tax purposes only if the owner can establish that the home was in fact converted permanently into income-producing property. Here, a longer lease period helps an owner. However, if you're in this situation, be aware that you may not wind up with much of a loss for tax purposes. That's because basis (the cost for tax purposes) is equal to the lesser of actual cost or the property's fair market value when it's converted to rental property. So if a home was bought for $300,000, converted to a rental when it's worth $250,000, and ultimately sold for $225,000, the loss would be only $25,000.
The question of whether to turn a principal residence into rental property isn't easy. Contact us to review your situation and help you make a decision.
© 2022
---

Taking the opposite approach: Ways your business can accelerate taxable income and defer deductions
Typically, businesses want to delay recognition of taxable income into future years and accelerate deductions into the current year. But when is it prudent to do the opposite? And why would you want to?
One reason might be tax law changes that raise tax rates. There have been discussions in Washington about raising the corporate federal income tax rate from its current flat 21%. Another reason may be because you expect your noncorporate pass-through entity business to pay taxes at higher rates in the future, because the pass-through income will be taxed on your personal return. There have also been discussions in Washington about raising individual federal income tax rates.
If you believe your business income could be subject to tax rate increases, you might want to accelerate income recognition into the current tax year to benefit from the current lower tax rates. At the same time, you may want to postpone deductions into a later tax year, when rates are higher, and when the deductions will do more tax-saving good.
To accelerate income
Consider these options if you want to accelerate revenue recognition into the current tax year:
Sell appreciated assets that have capital gains in the current year, rather than waiting until a later year.
Review the company's list of depreciable assets to determine if any fully depreciated assets are in need of replacement. If fully depreciated assets are sold, taxable gains will be triggered in the year of sale.
For installment sales of appreciated assets, elect out of installment sale treatment to recognize gain in the year of sale.
Instead of using a tax-deferred like-kind Section 1031 exchange, sell real property in a taxable transaction.
Consider converting your S corporation into a partnership or LLC treated as a partnership for tax purposes. That will trigger gains from the company's appreciated assets because the conversion is treated as a taxable liquidation of the S corp. The partnership will have an increased tax basis in the assets.
For a construction company, do you have long-term construction contracts previously exempt from the percentage-of-completion method of accounting for long-term contracts? Consider using the percentage-of-completion method to recognize income sooner as compared to the completed contract method, which defers recognition of income until the long-term construction is completed.
To defer deductions
Consider the following actions to postpone deductions into a higher-rate tax year, which will maximize their value:
Delay purchasing capital equipment and fixed assets, which would give rise to depreciation deductions.
Forego claiming big first-year Section 179 deductions or bonus depreciation deductions on new depreciable assets and instead depreciate the assets over a number of years.
Determine whether professional fees and employee salaries associated with a long-term project could be capitalized, which would spread out the costs over time and push the related deductions forward into a higher rate tax year.
Purchase bonds at a discount this year to increase interest income in future years.
If allowed, put off inventory shrinkage or other write-downs until a year with a higher tax rate.
Delay charitable contributions into a year with a higher tax rate.
If allowed, delay accounts receivable charge-offs to a year with a higher rate.
Delay payment of liabilities where the related deduction is based on when the amount is paid.
Contact us to discuss the best tax planning actions in light of your business's unique tax situation.
© 2022
---

Establish a tax-favored retirement plan
If your business doesn't already have a retirement plan, now might be a good time to take the plunge. Current retirement plan rules allow for significant tax-deductible contributions.
For example, if you're self-employed and set up a SEP-IRA, you can contribute up to 20% of your self-employment earnings, with a maximum contribution of $61,000 for 2022. If you're employed by your own corporation, up to 25% of your salary can be contributed to your account, with a maximum contribution of $61,000. If you're in the 32% federal income tax bracket, making a maximum contribution could cut what you owe Uncle Sam for 2022 by a whopping $19,520 (32% times $61,000). 
More options
Other small business retirement plan options include:
401(k) plans, which can even be set up for just one person (also called solo 401(k)s),
Defined benefit pension plans, and
SIMPLE-IRAs.
Depending on your circumstances, these other types of plans may allow bigger deductible contributions.
Deadlines to establish and contribute
Thanks to a change made by the 2019 SECURE Act, tax-favored qualified employee retirement plans, except for SIMPLE-IRA plans, can now be adopted by the due date (including any extension) of the employer's federal income tax return for the adoption year. The plan can then receive deductible employer contributions that are made by the due date (including any extension), and the employer can deduct those contributions on the return for the adoption year.
Important: The SECURE Act provision didn't change the deadline to establish a SIMPLE-IRA plan. It remains October 1 of the year for which the plan is to take effect. Also, the SECURE Act change doesn't override rules that require certain plan provisions to be in effect during the plan year, such as the provisions that cover employee elective deferral contributions (salary-reduction contributions) under a 401(k) plan. The plan must be in existence before such employee elective deferral contributions can be made.
For example, the deadline for the 2021 tax year for setting up a SEP-IRA for a sole proprietorship business that uses the calendar year for tax purposes is October 17, 2022, if you extend your 2021 tax return. The deadline for making the contribution for the 2021 tax year is also October 17, 2022. However, to make a SIMPLE-IRA contribution for the 2021 tax year, you must have set up the plan by October 1, 2021. So, it's too late to set up a plan for last year.
While you can delay until next year establishing a tax-favored retirement plan for this year (except for a SIMPLE-IRA plan), why wait? Get it done this year as part of your tax planning and start saving for retirement. We can provide more information on small business retirement plan alternatives. Be aware that, if your business has employees, you may have to make contributions for them, too.
© 2022
---

2022 Q2 tax calendar: Key deadlines for businesses and other employers
Here are some of the key tax-related deadlines that apply to businesses and other employers during the second quarter of 2022. Keep in mind that this list isn't all-inclusive, so there may be additional deadlines that apply to you. Contact us to ensure you're meeting all applicable deadlines and to learn more about the filing requirements.
April 18- PASSED
If you're a calendar-year corporation, file a 2021 income tax return (Form 1120) or file for an automatic six-month extension (Form 7004) and pay any tax due.
Corporations pay the first installment of 2022 estimated income taxes.
For individuals, file a 2021 income tax return (Form 1040 or Form 1040-SR) or file for an automatic six-month extension (Form 4868) and paying any tax due. (See June 15 for an exception for certain taxpayers.)
For individuals, pay the first installment of 2022 estimated taxes, if you don't pay income tax through withholding (Form 1040-ES).
May 2
Employers report income tax withholding and FICA taxes for the first quarter of 2022 (Form 941) and pay any tax due.
May 10
Employers report income tax withholding and FICA taxes for the first quarter of 2022 (Form 941), if you deposited on time and fully paid all of the associated taxes due.
June 15
Corporations pay the second installment of 2022 estimated income taxes.
© 2022
---
Keeping meticulous records is the key to tax deductions and painless IRS audits
If you operate a business, or you're starting a new one, you know you need to keep records of your income and expenses. Specifically, you should carefully record your expenses in order to claim all of the tax deductions to which you're entitled. And you want to make sure you can defend the amounts reported on your tax returns in case you're ever audited by the IRS.
Be aware that there's no one way to keep business records. But there are strict rules when it comes to keeping records and proving expenses are legitimate for tax purposes. Certain types of expenses, such as automobile, travel, meals and home office costs, require special attention because they're subject to special recordkeeping requirements or limitations.
Here are two recent court cases to illustrate some of the issues.
Case 1: To claim deductions, an activity must be engaged in for profit
A business expense can be deducted if a taxpayer can establish that the primary objective of the activity is making a profit. The expense must also be substantiated and be an ordinary and necessary business expense. In one case, a taxpayer claimed deductions that created a loss, which she used to shelter other income from tax.
She engaged in various activities including acting in the entertainment industry and selling jewelry. The IRS found her activities weren't engaged in for profit and it disallowed her deductions.
The taxpayer took her case to the U.S. Tax Court, where she found some success. The court found that she was engaged in the business of acting during the years in issue. However, she didn't prove that all claimed expenses were ordinary and necessary business expenses. The court did allow deductions for expenses including headshots, casting agency fees, lessons to enhance the taxpayer's acting skills and part of the compensation for a personal assistant. But the court disallowed other deductions because it found insufficient evidence "to firmly establish a connection" between the expenses and the business.
In addition, the court found that the taxpayer didn't prove that she engaged in her jewelry sales activity for profit. She didn't operate it in a businesslike manner, spend sufficient time on it or seek out expertise in the jewelry industry. Therefore, all deductions related to that activity were disallowed. (TC Memo 2021-107)
Case 2: A business must substantiate claimed deductions with records
A taxpayer worked as a contract emergency room doctor at a medical center. He also started a business to provide emergency room physicians overseas. On Schedule C of his tax return, he deducted expenses related to his home office, travel, driving, continuing education, cost of goods sold and interest. The IRS disallowed most of the deductions.
As evidence in Tax Court, the doctor showed charts listing his expenses but didn't provide receipts or other substantiation showing the expenses were actually paid. He also failed to account for the portion of expenses attributable to personal activity.
The court disallowed the deductions stating that his charts weren't enough and didn't substantiate that the expenses were ordinary and necessary in his business. It noted that "even an otherwise deductible expense may be denied without sufficient substantiation." The doctor also didn't qualify to take home office deductions because he didn't prove it was his principal place of business. (TC Memo 2022-1)
We can help
Contact us if you need assistance retaining adequate business records. Taking a meticulous, proactive approach can protect your deductions and help make an audit much less difficult.
© 2022
---

Smooth sailing: Tips to speed processing and avoid hassles this tax season
The IRS began accepting 2021 individual tax returns on January 24. If you haven't prepared yet for tax season, here are three quick tips to help speed processing and avoid hassles.
Tip 1. Contact us soon for an appointment to prepare your tax return.
Tip 2. Gather all documents needed to prepare an accurate return. This includes W-2 and 1099 forms. In addition, you may have received statements or letters in connection with Economic Impact Payments (EIPs) or advance Child Tax Credit (CTC) payments.
Letter 6419, 2021 Total Advance Child Tax Credit Payments, tells taxpayers who received CTC payments how much they received. Since the advance payments represented about one-half of the total credit, taxpayers who received CTC payments need to file a return to collect the rest of the credit. Letter 6475, Your Third Economic Impact Payment, tells taxpayers who received an EIP in 2021 the amount of that payment. Taxpayers need to know the amount to determine if they can claim an additional amount on their tax returns.
Taxpayers who received an EIP or CTC payments must include that information on their returns. Failure to include this information, according to the IRS, means a return is incomplete and will require additional processing, which may delay any refund owed to the taxpayer.
Tip 3. Check certain information on your prepared return. Each Social Security number on your tax return should appear exactly as printed on the Social Security card(s). Likewise, make sure that names aren't misspelled. If you're receiving your refund by direct deposit, check the bank account number.
Failure to file or pay on time
What if you don't file on time or can't pay your tax bill? Separate penalties apply for failing to pay and failing to file. The penalties imposed are a percentage of the taxes you didn't pay or didn't pay on time. If you obtain an extension for the filing due date (until October 17), you aren't filing late unless you miss the extended due date. However, a filing extension doesn't apply to your responsibility for payment. If you obtain an extension, you're required to pay an estimate of any owed taxes by the regular deadline to avoid possible penalties.
The penalties for failing to file and failing to pay can be quite severe. (They may be excused by the IRS if your lateness is due to "reasonable cause," such as illness or a death in the family.) Contact us for questions or concerns about how to proceed in your situation.
© 2022
---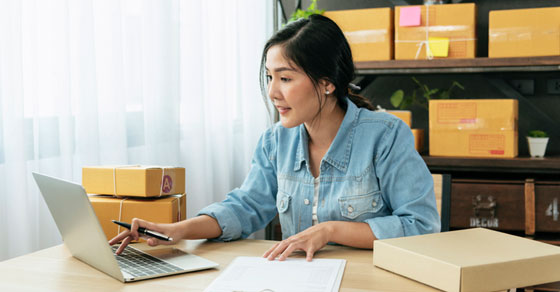 Important tax aspects of operating your business as a sole proprietor
If you're in business for yourself as a sole proprietor, or you're planning to start a business, you need to know about the tax aspects of your venture. Here are eight important issues to consider:
1. You report income and expenses on Schedule C of Form 1040. The net income is taxable to you regardless of whether you withdraw cash from the business. Your business expenses are deductible against gross income and not as itemized deductions. If you have any losses, they're generally deductible against your other income, subject to special rules relating to hobby losses, passive activity losses and losses in activities in which you weren't "at risk."
2. You may be eligible for the pass-through deduction. To the extent your business generates qualified business income, you're eligible to take the 20% pass-through deduction, subject to various limitations. The deduction is taken "below the line," so it reduces taxable income, rather than being taken "above the line" against gross income. You can take the deduction even if you don't itemize and instead take the standard deduction.
3. You might be able to deduct home office expenses. If you work from home, perform management or administrative tasks from a home office or store product samples or inventory at home, you may be entitled to deduct an allocable portion of certain costs. And if you have a home office, you may be able to deduct expenses of traveling from there to another work location.
4. You must pay self-employment taxes. For 2022, you pay self-employment tax (Social Security and Medicare) at a 15.3% rate on your self-employment net earnings of up to $147,000 and Medicare tax only at a 2.9% rate on the excess. An additional 0.9% Medicare tax is imposed on self-employment income in excess of $250,000 for joint returns, $125,000 for married taxpayers filing separately, and $200,000 in all other cases. Self-employment tax is imposed in addition to income tax, but you can deduct half of your self-employment tax as an adjustment to income.
5. You can deduct 100% of your health insurance costs as a business expense. This means your deduction for medical care insurance won't be subject to the rule that limits your medical expense deduction to amounts in excess of 7.5% of your adjusted gross income.
6. You must make quarterly estimated tax payments. For 2022, these are due April 18, June 15, September 15 and January 17, 2023.
7. You should keep complete records of your income and expenses. Carefully record expenses in order to claim all of the deductions to which you are entitled. Certain expenses, such as automobile, travel, meals and home office expenses, require special attention because they're subject to special recordkeeping requirements or limits on deductibility.
8. If you hire employees, you need a taxpayer identification number and you must withhold and pay over employment taxes.
We can help
Contact us if you'd like more information or assistance with the tax or recordkeeping aspects of your business.
© 2022
---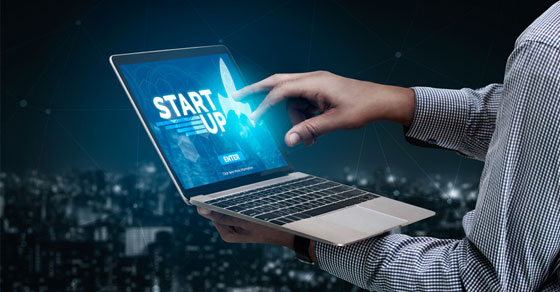 Entrepreneurs and taxes: How expenses are claimed on tax returns
While some businesses have closed since the start of the COVID-19 crisis, many new ventures have launched. Entrepreneurs have cited a number of reasons why they decided to start a business in the midst of a pandemic. For example, they had more time, wanted to take advantage of new opportunities or they needed money due to being laid off. Whatever the reason, if you've recently started a new business, or you're contemplating starting one, be aware of the tax implications.
As you know, before you even open the doors in a start-up business, you generally have to spend a lot of money. You may have to train workers and pay for rent, utilities, marketing and more.
Entrepreneurs are often unaware that many expenses incurred by start-ups can't be deducted right away. Keep in mind that the way you handle some of your initial expenses can make a large difference in your tax bill.
Essential tax points
When starting or planning a new enterprise, keep these factors in mind:
Start-up costs include those incurred or paid while creating an active trade or business — or investigating the creation or acquisition of one.
Under the federal tax code, taxpayers can elect to deduct up to $5,000 of business start-up and $5,000 of organizational costs in the year the venture begins. Of course, $5,000 doesn't go far these days! And the $5,000 deduction is reduced dollar-for-dollar by the amount by which your total start-up or organizational costs exceed $50,000. Any remaining costs must be amortized over 180 months on a straight-line basis.
No deductions or amortization write-offs are allowed until the year when "active conduct" of your new business commences. That usually means the year when the enterprise has all the pieces in place to begin earning revenue. To determine if a taxpayer meets this test, the IRS and courts generally ask questions such as: Did the taxpayer undertake the activity intending to earn a profit? Was the taxpayer regularly and actively involved? Has the activity actually begun?
Types of expenses
Start-up expenses generally include all expenses that are incurred to:
Investigate the creation or acquisition of a business,
Create a business, or
Engage in a for-profit activity in anticipation of that activity becoming an active business.
To be eligible for the election, an expense also must be one that would be deductible if it were incurred after a business began. One example would be the money you spend analyzing potential markets for a new product or service.
To qualify as an "organization expense," the outlay must be related to the creation of a corporation or partnership. Some examples of organization expenses are legal and accounting fees for services related to organizing the new business and filing fees paid to the state of incorporation.
An important decision 
Time may be of the essence if you have start-up expenses that you'd like to deduct for this year. You need to decide whether to take the election described above. Recordkeeping is important. Contact us about your business start-up plans. We can help with the tax and other aspects of your new venture.
---

Numerous tax limits affecting businesses have increased for 2022
Many tax limits that affect businesses are annually indexed for inflation, and a number of them have increased for 2022. Here's a rundown of those that may be important to you and your business.
Social Security tax
The amount of an employee's earnings that is subject to Social Security tax is capped for 2022 at $147,000 (up from $142,800 in 2021).
Deductions
Standard business mileage rate, per mile: 58.5 cents (up from 56 cents in 2021)
Section 179 expensing:

Limit: $1.08 million (up from $1.05 million in 2021)
Phaseout: $2.7 million (up from $2.62 million)

Income-based phase-out for certain limits on the Sec. 199A qualified business income deduction begins at:

Married filing jointly: $340,100 (up from $329,800 in 2021)
Single filers: $170,050 (up from $164,900)
Business meals
In 2022 and 2021, the deduction for eligible business-related food and beverage expenses provided by a restaurant is 100% (up from 50% in 2020).
Retirement plans
Employee contributions to 401(k) plans: $20,500 (up from $19,500 in 2021)
Catch-up contributions to 401(k) plans: $6,500 (unchanged)
Employee contributions to SIMPLEs: $14,000 (up from $13,500)
Catch-up contributions to SIMPLEs: $3,000 (unchanged)
Combined employer/employee contributions to defined contribution plans: $61,000 (up from $58,000)
Maximum compensation used to determine contributions: $305,000 (up from $290,000)
Annual limit for defined benefit plans: $245,000 (up from $230,000)
Compensation defining a highly compensated employee: $135,000 (up from $130,000)
Compensation defining a "key" employee: $200,000 (up from $185,000) 
Other employee benefits
Qualified transportation fringe-benefits employee income exclusion: $280 per month (up from $270 per month)
Health Savings Account contributions:

Individual coverage: $3,650 (up from $3,600)
Family coverage: $7,300 (up from $7,200)
Catch-up contribution: $1,000 (unchanged)

Health care Flexible Spending Account contributions: $2,850 (up from $2,750)
These are only some of the tax limits that may affect your business and additional rules may apply. Contact us if you have questions.
---

Businesses with employees who receive tips may be eligible for a tax credit
If you're an employer with a business where tipping is customary for providing food and beverages, you may qualify for a federal tax credit involving the Social Security and Medicare (FICA) taxes that you pay on your employees' tip income.
Basics of the credit
The FICA credit applies with respect to tips that your employees receive from customers in connection with the provision of food or beverages, regardless of whether the food or beverages are for consumption on or off the premises. Although these tips are paid by customers, they're treated for FICA tax purposes as if you paid them to your employees. Your employees are required to report their tips to you. You must withhold and remit the employee's share of FICA taxes, and you must also pay the employer's share of those taxes.
You claim the credit as part of the general business credit. It's equal to the employer's share of FICA taxes paid on tip income in excess of what's needed to bring your employee's wages up to $5.15 per hour. In other words, no credit is available to the extent the tip income just brings the employee up to the $5.15-per-hour level, calculated monthly. If you pay each employee at least $5.15 an hour (excluding tips), you don't have to be concerned with this calculation.
Note: A 2007 tax law froze the per-hour amount at $5.15, which was the amount of the federal minimum wage at that time. The minimum wage is now $7.25 per hour but the amount for credit computation purposes remains $5.15.
An example to illustrate
Example: Let's say a waiter works at your restaurant. He's paid $2 an hour plus tips. During the month, he works 160 hours for $320 and receives $2,000 in cash tips which he reports to you.
The waiter's $2-an-hour rate is below the $5.15 rate by $3.15 an hour. Thus, for the 160 hours worked, he is below the $5.15 rate by $504 (160 times $3.15). For the waiter, therefore, the first $504 of tip income just brings him up to the minimum rate. The rest of the tip income is $1,496 ($2,000 minus $504). The waiter's employer pays FICA taxes at the rate of 7.65% for him. Therefore, the employer's credit is $114.44 for the month: $1,496 times 7.65%.
While the employer's share of FICA taxes is generally deductible, the FICA taxes paid with respect to tip income used to determine the credit can't be deducted, because that would amount to a double benefit. However, you can elect not to take the credit, in which case you can claim the deduction.
Claim your credit
If your business pays FICA taxes on tip income paid to your employees, the tip tax credit may be valuable to you. Other rules may apply. If you have any questions, don't hesitate to contact us.
© 2022
. Additionally, annual out-of-pocket expenses required to be paid (other than for premiums) for covered benefits for 2023 will not be able to exceed $7,500 for self-only coverage or $15,000 for family coverage (up from $7,050 and $14,100, respectively, in 2022).
An individual (and the individual's covered spouse, as well) who has reached age 55 before the close of the tax year (and is an eligible HSA contributor) may make additional "catch-up" contributions for 2023 of up to $1,000 (unchanged from the 2022 amount).
Employer contributions
If an employer contributes to the HSA of an eligible individual, the employer's contribution is treated as employer-provided coverage for medical expenses under an accident or health plan. It's also excludable from an employee's gross income up to the deduction limitation. Funds can be built up for years because there's no "use-it-or-lose-it" provision. An employer that decides to make contributions on its employees' behalf must generally make comparable contributions to the HSAs of all comparable participating employees for that calendar year. If the employer doesn't make comparable contributions, the employer is subject to a 35% tax on the aggregate amount contributed by the employer to HSAs for that period.
Making withdrawals
HSA withdrawals (or distributions) can be made to pay for qualified medical expenses, which generally means expenses that would qualify for the medical expense itemized deduction. Among these expenses are doctors' visits, prescriptions, chiropractic care and premiums for long-term care insurance.
If funds are withdrawn from the HSA for other reasons, the withdrawal is taxable. Additionally, an extra 20% tax will apply to the withdrawal, unless it's made after reaching age 65, or in the event of death or disability.
HSAs offer a flexible option for providing health care coverage and they may be an attractive benefit for your business. But the rules are somewhat complex. Contact us if you have questions or would like to discuss offering HSAs to your employees.
© 2022
Here are a few key tax-related deadlines for businesses during Q1 of 2023. JAN. 17: Pay the final installment of 2022 estimated tax. JAN. 31: File 2022 Forms W-2 with the Social Security Administration and provide copies to employees. Also provide copies of 2022 Forms 1099-NEC to recipients and, if reporting nonemployee compensation in Box 7, file them, too. FEB. 28: File 2022 Forms 1099-MISC if not required earlier and paper filing. MARCH 15: If a calendar-year partnership or S corp., file or extend your 2022 tax return. Contact us to learn more about filing requirements and ensure you're meeting all applicable deadlines.